Beat from the street (March 9, 2014)
Many stories lurk throughout Asheville, whether they are behind the Vaudevillian jazz-folk played by buskers around Pritchard Park, the colorful businesses decorated with funky, hand-made crafts or the laughter echoing from a patio as locals and tourists alike enjoy delicious beer.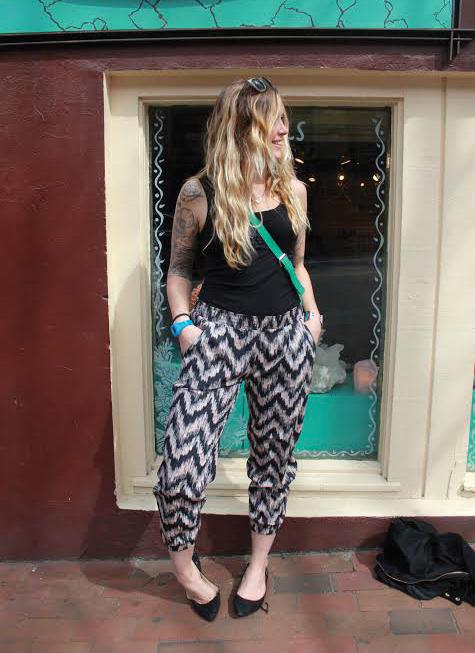 Photos by Larisa Karr.



Eva Gutwein,

Philadelphia native, social worker

How do you like to dress?

"I don't know. I guess it depends on what mood I'm in. I don't usually like to wear pants, but like to wear dresses, skirts, leggings. My style is definitely very feminine. My boyfriend works at a thrift store, so that's where I get most of my stuff. These days, everyone donates to thrift stores all the time. And it's cheaper. It's weird when you go to a real store and are like 'Holy s**t! These jeans cost $50!' I feel like I cycle my clothes out. You know, like go through my closet, get rid of something and bring something else in. I also get stuff that hangs in my closet. I know when I'm going to wear it, it sticks in my head, but then time goes by and you forget that was going to happen. Then you have that one day where you find it again and you're like 'Holy s**t! I forgot about that shirt!' Then, two years later, it's like your favorite thing and you wear it everyday."

Do you have any things that inspire you creatively?

"Did you ever see the movie 'Out of Africa?' She wears a lot of really high-waisted khaki. They're not Greyhounds, but they're like Greyhounds in a shaggy, big way. I really love those and I love her, but I don't think I could ever wear any of that stuff. I also love surfing magazines. I feel that the California, sunny, happy relaxing setting where hair is hanging down in a carefree way is beautiful."

Personal style philosophy?

"I don't know. Feel comfortable? Yeah, there's nothing I hate more than putting on something I think I'm going to like and then an hour later not feeling like myself, not comfortable. I'd say comfort's the best thing."

Do you see yourself going stylistically in any directions?

"I've always really liked bright colors; I feel like I'm going to stick with the bright colors for a while. I'm really going into mint right now, it's the thing right now, but I also like lipstick lately. I haven't worn lipstick in a while, but I've wearing it, and it feels good. Earrings are good too. I always say my number one rule is that when you get dressed, always make sure you have earrings on. If I don't earrings, I feel I'll do something wrong. Other than that, I don't really know in which direction I'm heading. Shorts – I feel like it's going to be a shorts summer."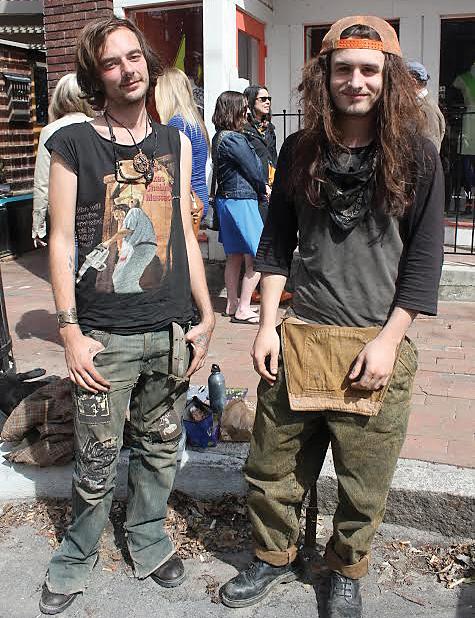 Gary, Philadelphia native, vagabond/jewelry maker
"It's pretty awesome. I've been doing it on and off for a couple of years now. I always have a great time.
How does being a vagabond inspire you and the way you dress?
"I sew all my clothes when they rip. It's kind of the DIY thing, because I don't have much money on me all the time. So I just kind of alter and make my own clothes."
"I would say my biggest inspiration would probably be punk bands, if I got inspiration from anyone. A lot of different bands, like Municipal Waste, Crass – heavier kind of music."
"This is my second time in Asheville. Both times I was here, people were really friendly. I meet a lot of cool people, and it just seems like a fun city to be in."
Craziest thing that happened to you when travelling across the country?
"I would say the craziest thing that ever happened to me when I was walking around through Nashville. This guy playing guitar on the street came up to me and asked if I wanted a ride to California. He then scooped me up off the street and drove me all the way to the West Coast. The guy was a little weird, but California was awesome."
Style philosophy or mantra?
Josh, a Baltimore native, accompanying vagabond
What do you gravitate toward style wise?
"Really, I don't know. The style of the street, the prints that I see, the Apache clothes and stuff like that; these all remind me of an ancient Renaissance in a tribal sense. I see this style everywhere, really.
What would you say has been a really exciting thing to happen to you in your travels?
"I can't say. The road is always full of surprises; you never know what's going to happen. I think it's that wanderlust and what you don't know that's exciting."
"Do it yourself. If your clothes wear out, patch it up. I don't have money to spend on a $60 pair of pants, I have to spend it more on things like food."