Beat from the street (April 9, 2014)
Many stories lurk throughout Asheville, whether behind the Vaudevillian jazz-folk played by buskers around Pritchard Park, the colorful businesses decorated with funky, hand-made crafts or the laughter echoing from a patio as locals enjoy delicious beer.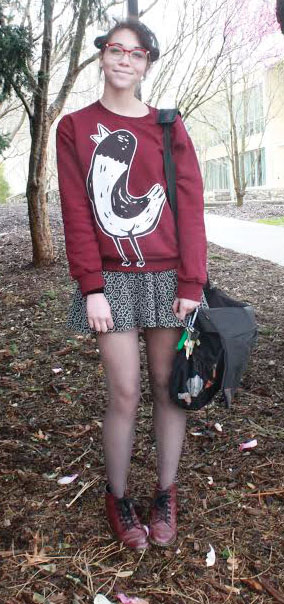 Photos by Larisa Karr.



Brandy Neal, a freshman and Asheville native

"I like to describe my whole look as monochromatic Clueless, like the movie. I'm very inspired by the whole schoolgirl look, only with much more colors and a grey scheme. It was an accident, so I'm glad."

How would you describe your style in three words?

"Classic, monochromatic and boots – they're all-encompassing."

What inspires you creatively about the world, the school and in general?

"I really like the darker side of things in nature in general, like the spooky forest, deep colors that are found in nature, like hunter green and dark maroons. I just like to encompass the flowing nature of the wind and water – something flowy."

Is there any particular inspiration that derives from anything or anyone?

"A lot of it just comes from random Look Book people. There's this blog that's called – well, it's kind of a gross name – it's 'Dirty Style Whore' and everything she puts on is amazing. When I found her, I wanted to do whatever she was doing, so that's my inspiration."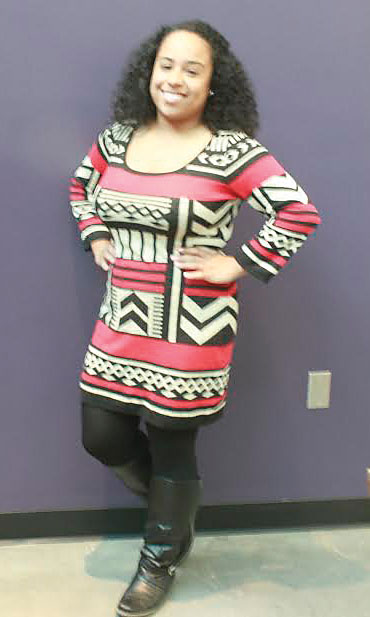 Stephanie Watkins-Cruz, a junior political science student
Tell me about your outfit today. How would you describe it?
"Well, I really like sweater dresses secretly. They can either be pretty awkward or pretty great, and this was nice because it was $10 at Ross and I have a dinner tonight with some delegates from Nigeria and the Black Student Association and different faculty on campus, so it was semi-casual and appropriate, as well as comfortable."
How would you describe your style in three words?
"Three words: figuring it out. Clothes-wise, definitely boots, maxi dresses and semi-professional skirts, even though that's more than three words."
If you had to describe something that influences you creatively, and how that seeps into your fashion taste, what would you choose?
"I would say my culture and my age, more so than working. I'm kind of transitioning from the clothes just to be clothes into the professional slash cute thing and I'm still figuring out my own style. With my age, I'm still young so I can still wear bright colors and slightly scandalous things. I'm still trying to be young but make that transition."
"I'm multiracial, so Hispanic, African-American and Native American, and my mom raised me that if I go outside even in sweatpants, I better look good in those sweatpants. You need to be presentable. That's why my style has more of a conservative, but not too conservative kind of feel to it."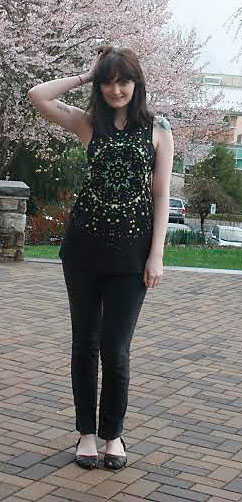 Chy Bryant, a health and wellness student and North Dakota native
How would you describe your current outfit and your style in general?
"I wanted to wear a dress today, but it's obviously very gloomy. I recently got this little black dress from Urban Outfitters that is solid black, but has black flowers for straps. It's really pretty, but it's too cold, so I just threw on a pair of jeans.
"This was a shirt that was given to me as a gym shirt, but I just kind of wear it around. It's got cutoffs inside and I like it because it shows off my tattoo that I don't really get to show off that much, as it's kind of in a weird place to show off. I like it because it's very simple, but has a pop of color on the shirt.
"I don't wear that much jewelry honestly. I have one pair of earrings that are little moons and I'll wear those sometimes. I had a nose ring that was a really simple little gold heart that was a wire, but it recently ripped out over Christmas break.
"I've heard grungy and hipster and just a variety of things. I had someone the other day in Rosettas stop me and tell me, 'You know, you have a very unique style. I've never seen anyone dress like you,' and I just thought, 'Thanks, that's kind of what I go for.'"
If you had to describe it in three words, what would you say?
"Dark colors, kind of artsy, I guess. I use a lot of dark colors, but also a variety of styles. Simple. Dark, artsy, simple."
What inspires you creatively that influences your style?
"My style is based on the fact that I believe in the value of simplicity, as I think simplicity is one of the most difficult things you can achieve beautifully.
"I want to have a style that's simple but more complex the more you look at it. I've been compared to the character of Effy Stonem from the TV show, Skins about twice, but it's made me feel nice. The simplicity of Lana Del Rey's style inspires me as well."
What do you associate and not associate with the word 'style?'
"I'm definitely not a neon color kind of person. I don't try to overdo it. My philosophy with makeup and stuff like that is to draw attention to one feature, like bold eye makeup.
"I won't wear a bright color of lipstick with it. I don't really follow fashion all that much honestly, but I definitely like Effy Stonem's style, as well as the professional-ish look that Debra Morgan has on Dexter. I'll wear that when I go out somewhere nice because it's something really simple but professional-looking.
How do you find the style at UNC Asheville to be?
"Some people definitely are inspiring. When I first came here, I saw a bunch of people who looked like they came from Tumblr. I thought, 'Wow, those people actually dress like that in real life. I didn't know people would dress like that.'
"I was having a conversation with my friend Sarah, who said, 'Chy, you could dress like someone from Tumblr, and so we went out that day and bought hair bleach. I bleached my hair white and put pastel blue on top of it. I had like a pastel sea-green color for a while, and then the color faded, so I added blue. It got bright, so it was like an electric blue. If I did that back in Boone, everyone would be asking me, 'What have you done?'
"I tried dying my hair a bright red there and it just didn't go over very well. My parents don't really mind that kind of thing, but people at my high school were weirded out by it. Here everyone is like 'Hey, nice hair! You look like a mermaid!' So, I definitely think that the style can be inspiring."