From accordion to acoustic: a night of variety and surprise at New Mountain
Photo by Makeda Sandford.
On the evening of March 9th,while the pastel-wearing tourists roamed amongst the overpriced art galleries on Biltmore Ave. and the usual dreadheads swarmed around Pritchard Park, a little-buzzed-about event of unusual but epic proportions was taking place at the New Mountain Music Hall.
A cabaret-tango goddess; a quirky, stiff-dancing but loveable dark-wave singer; a punchy surf-rock trio, and a psychedelic, trance-inducing group of European musicians were all gracing the stage with their individual presences, and what ensued turned out to be one of the most unique concerts ever.
First up off the bat was the literally indescribable Crystal Bright and the Silver Hands.
Having seen the gorgeous, saucy Bright, who usually dons tango-style dresses in a nod to just one of the 1000+ inspirations for her music, a few months ago, nothing but absolute joy and delight comes to mind when thinking about experiencing the band live. She is, in and of herself, a living form of art.
Playing a bizarre amount of instruments, including but not limited to the accordion, guitar, keyboard, saw, and the Ugandan harp (known as the adungu), Bright is known for taking the audience to different worlds through the stories she tells with her haunting voice. Hearing that she alone was on the bill for this evening sold me on attending the show.
Unfortunately, she only performed a thirty-minute-ish set, which is way too little time for her intricate and sonic unfoldings of stories that feel like you are travelling across continents. The most memorable part of her set was when she performed a song off her latest album, The Absolute Elsewhere, entitled "Crescent Moon Bear."
She has always been an artist keen on incorporating stories into her music, but one thing that was different about her latest album was the process through which she wrote the songs.
"Well, I picked out a bunch of photos from Rusty McDonald, who has done my older album covers," said Bright. "We wanted to take it to the next level and picked out a bunch of his photos and wrote the songs to the photos. I talked to him about what the stories were and the characters and he created this land called 'The Absolute Elsewhere.'"
Next up came the unexpected, fabulously surprising Dinner. Hailing from Denmark, Dinner had both me and my friend unusually intrigued even before we had laid eyes on him. I was outside having a smoke, and, in the midst of our conversation, we both stopped and poked our heads back into the auditorium at the sound of the synthy, slightly-Bauhaus-y but still lightly poppy glitter rock that Dinner brings to the table.
Honestly, if he comes to your city, just go see him for his dancing alone, because he is in a completely "other" realm with his groovy moves. He's quite obviously nervous and self-conscious, and he communicates this through dance, twisting and turning and swaying while droning over his light-synth instrumentals with his dark, serious voice.
Dedicating his final song to "the divine feminine", Dinner epically wrapped his face in a cloth of glitter while continuing to sway, sway, sway.
Next up came EZTV, a spirited and easy-going lo-fi, indie band. Although the band hails from Brooklyn, their music sounds like it was inspired by spending time soaking up California sunshine. The band, composed of three members, formed somewhat by accident when they compiled themselves to try out as a make-shift band for Spiritualized a few years ago.
Although they didn't get the gig, they discovered that they jived well as a band, and EZTV was born.
The energetic and engaging bassist for EZTV, Michael Stasiak, reflected on the release of the band's latest album, "Calling Out," which came out the following day.
"I'm most excited about seeing it on the shelf. For one thing, it's the only record I've ever been a part of where I am on the cover, literally like Rolling Stones-style," Stasiak said. "So, that's pretty exciting, just sort of having this funny dream. I'm a little scared of it."
After Dinner's weird, neurotic goth pop, the contrast into EZTV's melancholy but beachy style of pop-rock had the audience nursing their beers while swaying back and forth in pleasant approval.
Photo by Makeda Sandford.

The final band, and the headliner, was Dutch psychedelic rock group Jacco Gardner.
Having grown up in Asheville, I usually roll my eyes and try to avoid the psych-rock loving crowd, but Jacco Gardner is definitely an exception.
They have a mysteriously elegant quality to them that feels like you were thrown back into the 60s (at least, what I imagine the 60s would be like at any rate).
Blending a mix of "For the Benefit of Mr. Kite"-era Beatles with hints of Donovan and Tiny Tim, Jacco Gardner sounds like music I imagine I would hear if I chose to drop acid for the first time.
Although they have obvious influences, however, Jacco Gardner is surprisingly unique while being modern at the same time.
Throughout the set, as various swirling, psychedelic projections flickered behind them, the wind from the evening outside breezed in through the side door and lifted their set fully into its strong, enigmatic realm.
Fresh off a world tour with their new album, "Hypnophobia", bassist Frank Mastan, originally from LA, reflected on what was cool about seeing his own country through a foreign perspective.
"Touring with all these Dutch guys in America is really fun," Mastan said, "because they like everything and they're excited about everything and everywhere."
As the night waned down and the music faded into the evening, I was smiling and happy at having suddenly been given the opportunity to experience such a strange but enjoyable evening of great music.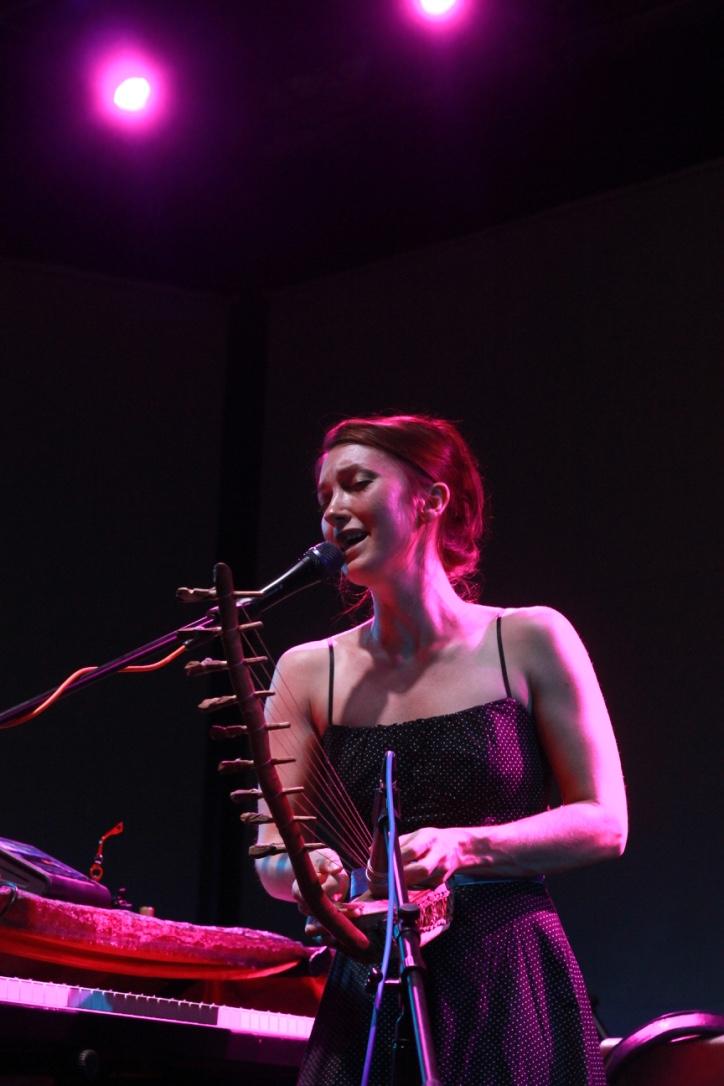 Photo by Makeda Sandford.
This review was originally published in The Blue Banner.