Beat from the street (September 23, 2015)
Many stories lurk throughout Asheville, whether they are behind the Vaudevillian jazz-folk played by buskers around Pritchard Park, the colorful businesses decorated with funky, hand-made crafts or the laughter echoing from a patio as locals and tourists alike enjoy delicious beer.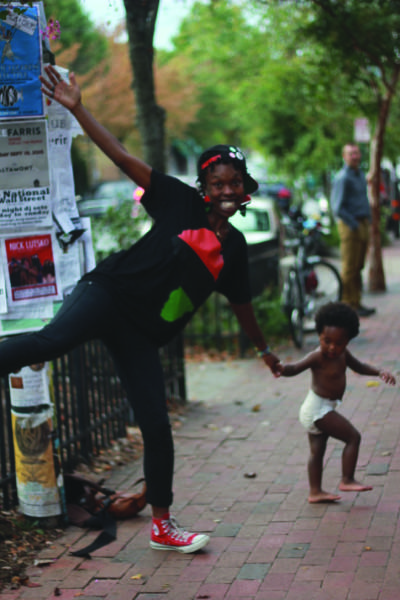 Akua Adisa, community organizer/healing artist/writer, originally from Milwaukee
"I'm 28. When I was 18, I moved to Atlanta, and then five years ago, I moved here from Atlanta. Now I live here and Atlanta. I'm living bi-local."
What would you say inspires your style?
"My style is inspired by, first and foremost, what I'm feeling and working with that in a medicinal way. So, if I'm feeling that I need to be coddled and I need to be comforted, I'll wear clothes that are very comfortable. If I'm feeling bogged down by the white dominance of Asheville, then I'll wear big Africa on my shirt, red black and green, just to make me feel more powerful in my identity. The red, black and green flag is the Pan-African flag but I would say it's totally beyond Marcus Garvey. It's embraced by Pan-Africans all over the world."
If you were to say three words that would describe your style, what would you say?
"Cozy, queer African."
If you were to cite someone of inspiration, like a writer or a political activist that gives you life and inspire you on a daily basis, what would you say?
"I would say Audre Lorde, Jessica Care Moore, who is a really good poet, Alicia Garza, one of the founders of Black Lives Matter,who has given me life right now. I would say Erykah Badu. Oh, Andre 3000."
Do you have a personal philosophy that you live by?
"My mantra would be 'everything is unfolding perfectly.'"
What do you think of Asheville?
"Asheville is a challenging place to live for me as a queer woman of African descent. I'm trying to bring a community around that where I can bring my whole self forward but I love this place. The place itself is really healing, the mountains, the materials, minerals, the plant life. This place feels like a home. I'm making a home here, for sure. It's kind of like an abusive relationship."
Mariah Thomas, originally from Arizona, and Jeremiah Armstrong, originally from Oregon, rock miners
T: "We mine gems and minerals, quartz, aquamarines, things like that and we sell them to rock shops."
Have you been here a long time?
M: "We've been here for, like, a week."
T: "One week today, actually"
M: "We definitely dig Asheville, though, a lot. It's a really cool city. It's been really good to us. People are really nice and everybody loves Rosco."
Have you found the rocks and gems here have been pretty good?
M: "Yeah, I just learning about it a couple of months ago. I've been lucky enough to meet him and he's been teaching me all about it. Basically, we go to different mines and different places where the pretty stones are and go digging for them and it usually works out pretty well for us. He takes them into the stores and works out deals with the owners of rock shops and stuff. We just traded for some clothes for a couple racks that we had."
So if you were to describe your personal sense of style, what would you say?
T:"I like to dress in neutral colors. I like to be comfortable and neutral because then anything is open for conversations with everyone. You're more approachable. I like blacks and white, tan, brown, beige, earthy tones. It's open for any variety of people to be open and communicate with me. I don't close off and categorize people."
M: "I like just to be comfortable, and I like bright colors, just the opposite."
Do you feel that colors have an energy about them?
T: "I would say most definitely."
M: "I met this kid once who dressed according to what his color of the day was. He had this almanac that told him all the colors, like one day he wore all blue. I thought that was pretty cool. Farmer's Almanac, I think, is actually what tells you what your color is that day. If you go to a New Age section in a bookstore, like Spiritualism, I've gotten a witches' almanac before. They're pretty cool. They've got little spells in them. I've had regular Farmer's Almanacs too that I get there. They have crystal almanacs, which are pretty cool too.
"We went to Downtown Books & News on Lexington, and that was really chill. That's what we like about here so much, the really relaxed vibes, and everybody's just really welcome and opening here.
"That's kind of how my old town was, Flagstaff. I met so many who were travelling who were doing it and I thought that would be a really great idea. That's so rad, the way people are travelling, I really liked it. I met him and he was a good person, I felt like, to travel with."
M: "In that town, Flagstaff. He was downtown in the square, kind of doing this. I was smoking a cigarette, pretty much doing what we're doing here."
What would you say inspires you both?
M: "Definitely artists, man, they blow my mind. Of any kind, musicians, painters, stuff like that. I'm really interested heavily in the creative arts. I paint a lot. He plays music."
T: "A lot of music. I also like philosophy speakers, like Alan Watts. They inspire me a lot to use my words better."
M: "Writers are a big influence too, I feel, writers of books, like Ram Dass and Jack Kerouac. Jack Kerouac, definitely. Jack Kerouac made me want to start travelling in high school, and I didn't even know what it was then.
On the Road
and
The Dharma Bums
are two of my favorite books. They're really good. I read this book also that I haven't read before. It's a prelude to
On the Road
that he wrote later after
The Dharma Bums.
It's, like,
Angels in the Fire
or something like that. It's really interesting. You'll have to check it out. I saw it at that bookstore actually. Allen Ginsberg is my favorite, man. Allen Ginsberg can bring me to tears. He's just heavy."
"I felt like I was really heavily inspired by the Merry Pranksters and that whole group too, early '60s influences. I love Ken Kesey and everything he's done, their whole group, Jerry Garcia, Stark Naked and Mountain Girl. Then there's a real-life book about them,
The Electric Kool-Aid Acid Test
, that is really rad. That's really cool. They actually put together a film with all the footage they had. They had taken a video camera with them on the trip but they were unable to put the film and sound together for so many years. About five years ago, they made a documentary that was all footage from the trip. It's really cool. I think it's actually called
The Magic Trip
. It was on Netflix for a really long time. You get to see even Neal Cassidy. He's driving the bus and going crazy on methamphetamine, just being that guy who's driving the bus all night long. You get to see all the different sides to the characters pretty much. I think he's been romanticized in
On the Road
as Dean Moriarty."
What's next for you guys?
M: "We're going to a gathering from here, the Rainbow Gathering, that's going to be in Tennessee. After that, we should make our way West for winter where it's warmer and we can find more stones. We actually came here originally to go gem hunting around for blue kyanite but we haven't had so much luck with really good spots. They've just got little mica mines."