Beat from the street (September 30, 2015)
Many stories lurk throughout Asheville, whether they are behind the Vaudevillian jazz-folk played by buskers around Pritchard Park, the colorful businesses decorated with funky, hand-made crafts or the laughter echoing from a patio as locals and tourists alike enjoy delicious beer.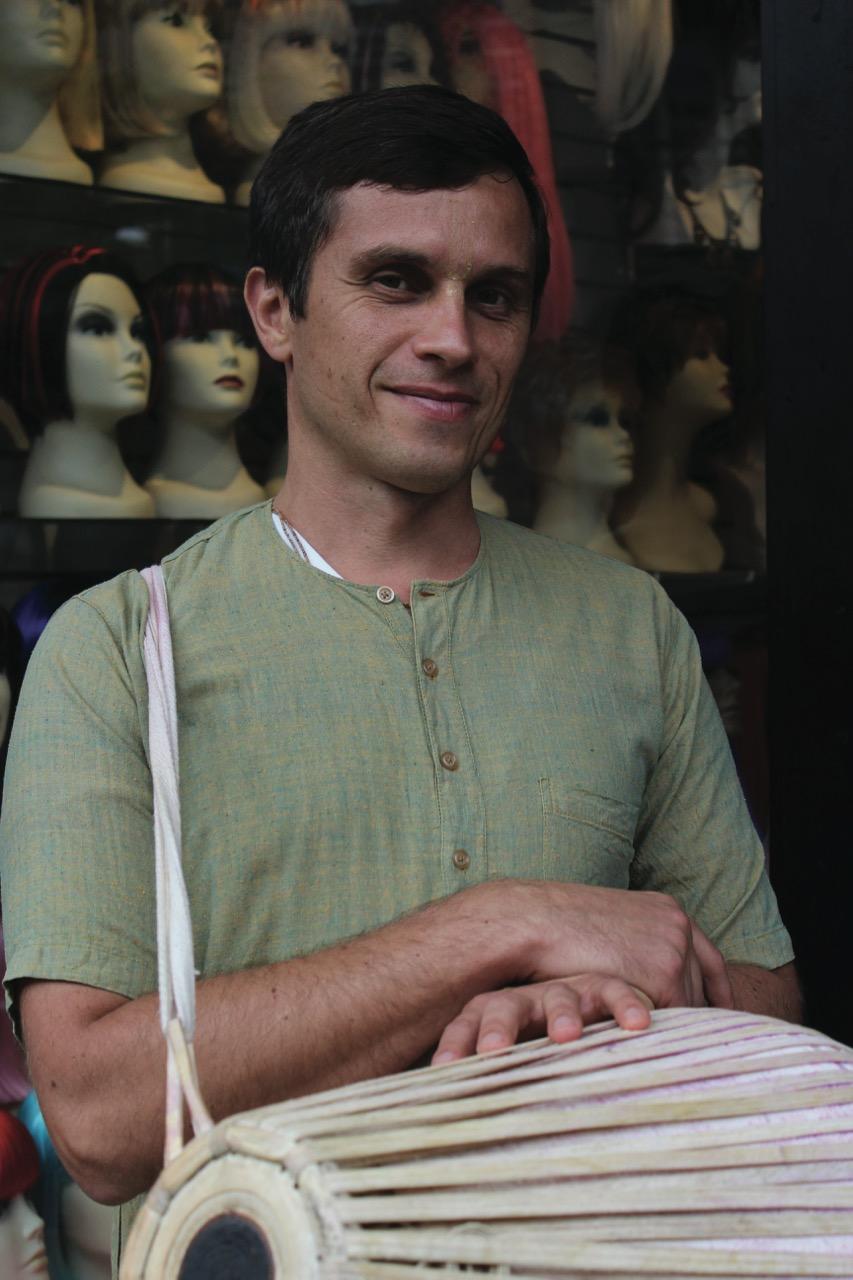 Photo by Jordyn Key.





Vijay, Hare Krishna, originally from Szczecin, Poland

What are you doing here today?

"We are Hare Krishnas. Our main job is to distribute knowledge about Krishna to the public because we believe that nowadays, there is a big lack of understanding between who is God, who we are, what's the purpose of life. So by chanting these holy names, we can easily understand that we are not this body, but we are soul. We are living in this body like we are like a passenger in the car and we pass through different kinds of bodies according to our consciousness."

How would you describe the way your clothing coincides to what you do?

"We want to be recognized as Hare Krishnas so we believe that when you wear clothes like that it helps you with meditation, with feeling peaceful. You can see that clothes have an impact on how you feel and how you live. On a daily basis, I'm a professional. I go to work nicely-dressed to show that I am a professional. I dress this way to show that I am a person who is pursuing a spiritual path and that's how lots of people dress, especially in the eastern countries, like India. People dedicate their lives to spiritual knowledge. I personally took initiation and I vowed that I would follow a certain district in my life, including chanting, meditating and reading scriptures. So it's the code of conduct if we want to be recognized as Hare Krishnas."

If you were to have a personal motto that you live by on a day-to-day basis, what would it be?

"My personal motto would be to always remember Krishna and never forget him because it's like association. If you associate with people who drink, you're going to start drinking. If you associate with people who have money, you have money. If you associate with God or with members of God, you are going to go back to God and develop godly qualities, so our motto is, 'Always remember God.' Always remember that you are just a part of God, that here is temporary, you're just traveling. The goal of the journey is to realize that there is God and I have a deep, loving relationship with God."
Photo by Jordyn Key.
"We want to be conscious. We want to live to full extent and the scripture says that the only way to do it is realizing that we are spirit. Our body is limited but spirits are not limited. Our body is temporary but the spirit is permanent. So, we also play instruments like you see. These are old instruments from India. This Idakka was invented thousands of years ago. The best way to express your love is through music. You have romantic movies where the guy goes and sings, and we do the same. We just sing and chant.
"It's interesting for Krishna consciousness because we invite everybody. Whatever the color of your skin, whatever beliefs you have, whether you are Christian or Muslim, you are black, white, European or American, we don't care. Come and chant. We're not sectarian. Come and chant with us and enjoy the Mahamantra. Mahamantra is a program on Sunday afternoons where we come and we have a vegetarian feast. We are vegetarians."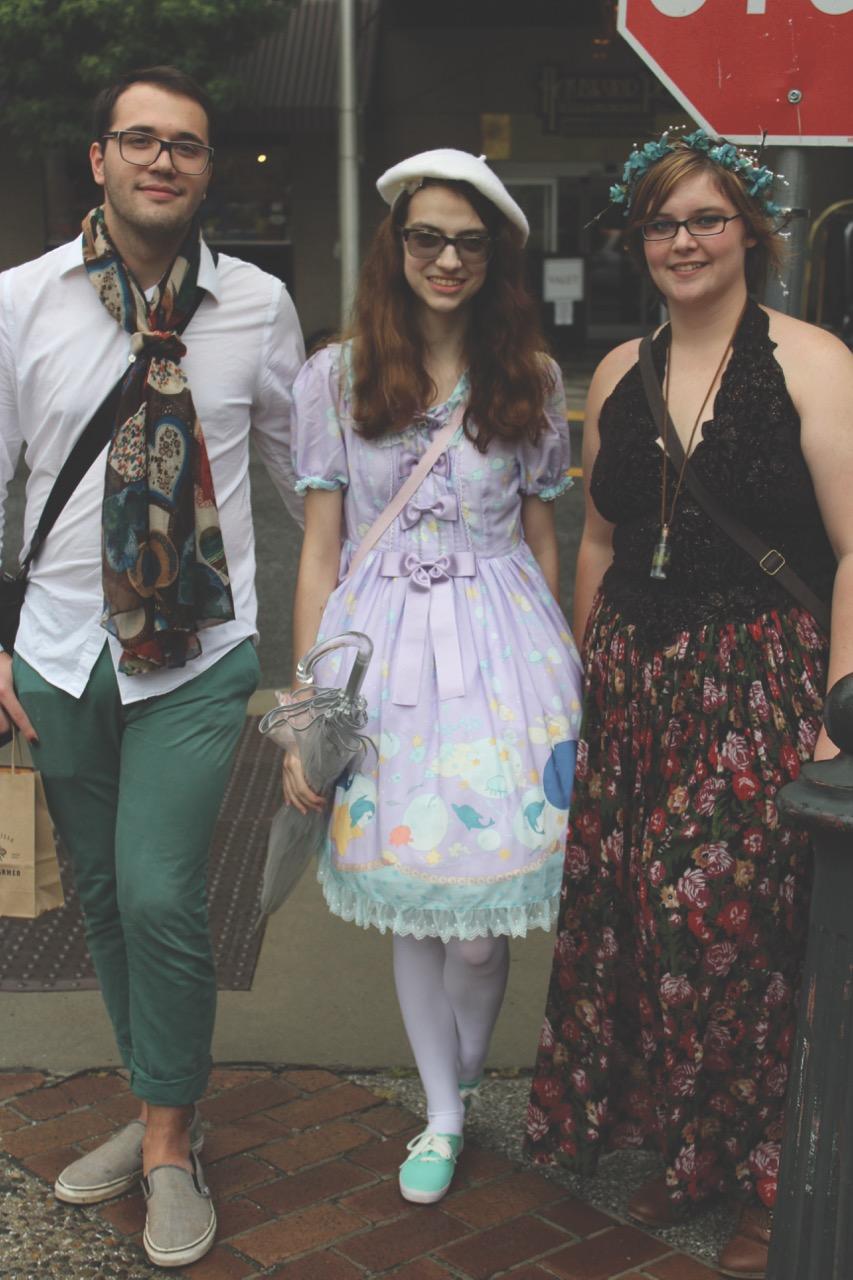 Giacomo Riva, philosophy and classics student, originally from Milan, Italy


Rebecca Stowe, chemistry student, originally from Charlotte


Lindsey Cline, English, teacher licensure and religious studies student, originally from Charlotte
What inspired this outfit today?
Rebecca: "It's cute and since it was going to rain, I couldn't wear a fancier one because they would bleed, so I went with whales."
Lindsey: "I'm trying to go to the Renaissance festival this weekend so I was thinking of trying this out and seeing how it would go, so like fairy, earthy type of things."
Giacomo: "I find that I like Italian style usually. I like looking cute and I love scarves. Scarves are a good thing. Every kind of knot on a scarf is interesting. You can play with them. They give you style and they give you stature."
If you were to have an individual style motto/inspiration, what would it be?
Lindsey: "Dress for an adventure."
Giacomo: "I like the Victorian age period as a dressing moment."
Rebecca: "Do what you want. Don't let time stop you."