Punks, pinups and PBR: Hellbilly Hootenanny riles Asheville for seventh year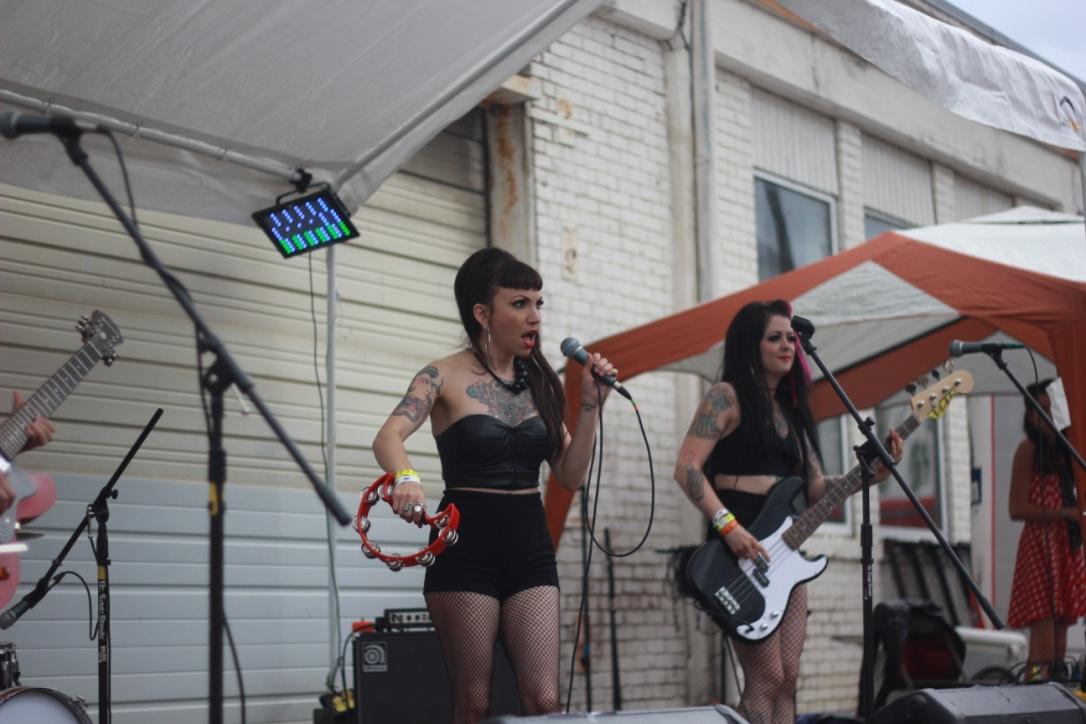 It is easy to drive past the gray industrial warehouses, automobile repair shacks and churches of Woodfin without glancing or giving much distinction to any event happening, as the area usually appears quiet and isolated. This Saturday, however, one of the coolest and most unusual parties in Asheville took place behind one of these non-descript warehouse-like structures, and it attracted an unconventional crowd of onlookers and participants.
A small but steady stream of contestants looking like versions of Betty Page and women in 1940s Life magazine photographs, were stepping confidently down the uneven, gravelly slope toward The Broken Spoke Motorcycle Repair, Parts and Maintenance. At the base of the hill, older men and women fitted in leather, and tattooed hipsters clutching their Pabst Blue Ribbon beers, strolled around the parking lot, scoping out the cars and the motorcycles as the sky, pregnant with gray anticipation, loomed overhead.
One might think this was a gathering of a very specific club with exclusive members. But no, Hellbilly Hootenanny is open to everyone and has been rocking steady for seven years.
Although the word "hootenanny" might imply that folk music was being played, the music attacking the audience's ears was meant to do just that.
Bands with names associated with death, including the Koffin Kats and the Nek Romantix, drew the remains of Asheville's sleepy punk scene from the cracks in the pavement. One band in particular stood out on this dreary day, mainly because of their striking lineup.
"Hey! Did you hear that? There's an all-female group about to play!" shouted one attendee to another, standing close to the ticket booth.
"All-female? Really?" shouted the other man. "Let's go see them play!"
" I think the inspiration for our band pretty much boils down to wanting to see not only women up front, but also women on stage," said Tea Simpson, lead singer/sorceress of the bewitching quartet L'Assassins.
"Quentin Tarantino, The Cramps, B movies: we like the idea of women being bigger and badder."
Consisting of Monet Wong on guitar, Angela Clark on drums, and Ariel Dornbush on bass, the group members, originally hailing from Minneapolis, were bedecked in corsets, leather and fishnets and are indeed the ultimate embodiment of females at their most ferocious.
The band is known for their stage presence and theatrical shows, involving dialogues amongst the band members to accompany the songs.
"Psycho Beach," from their latest album Kill Kill Kill! Bang Bang Bang! is a ditty about a rumor that a butcher is stalking the beach grounds where a group of girls want to go party.
"Party till we drop dead!" shouted Simpson, tongue-in-cheek, as she taunted the audience with her commanding stage presence.
One of the subjects that the group talked most energetically about was how important it was to maintain a strong attitude and a ruthless performance energy in order to be taken seriously.
"It's always a fun little challenge when we get to a venue and we see the other bands who are playing. They look at you 'cause we're all dressed up and whatever and are like 'Yeah, I don't know about that.' And then we start playing, and then afterwards they're like, 'Oh my God!'" Clark said. "So that's almost more of a challenge too, because you want to push yourself in order to be good. It's going to be a good show. Trust us. Put your preconceptions and whatever aside."
Although the classic car and motorcycle show is the primary draw of the Hootenanny, the audience is not restricted to a single demographic.
"We primarily are looking to showcase pre-traditional and custom hot rods," said Chuck Kinney, one of the organizers of the event. "But this event is for the car lover, the motorcycle lover/enthusiast, rockabilly music, and people who are into that scene."
One of the attendees at the event, Jamie Kelly, was eager to diversify the selection of vehicles on display.
Kelly, wearing a bull horn mask over a bandana on his face along with a spiky collar on his neck, stood just south of the stage, pressing a button that lifted the back of his 1989 Chevrolet S-10 into the air. He had designed the vehicle so that individual sections of the back shifted disjointedly from each other, so as to create a zig-zag effect.
"I like to think of it as not just a car show, but mechanical art," Kelly said.
The other aspects of the show included a series of contests, including one for pinups, best mustache, best tattoo and worst tattoo.
The worst tattoo contest was fairly unsurprising until a woman walked on stage and the throng of about 50 people lurched forward, intent on seeing the horrific tattoo supposedly scratched on her arm. A person who travels the country entering "worst tattoo competitions," the woman's unidentifiable tattoo was infected, and elicited a huge "Ooooooooh" from the disgusted crowd. The host presented her with the award for crowd favorite, an appropriately-fitting PBR baseball cap, and encouraged her to "trade that for some penicillin."