Beat From the Street (April 20, 2016)
Many stories lurk throughout Asheville, whether they are behind the Vaudevillian jazz-folk played by buskers around Pritchard Park, the colorful businesses decorated with funky, hand-made crafts or the laughter echoing from a patio as locals and tourists alike enjoy delicious beer.
Alan Crenshaw, 60, former computer technician from Pittsburgh
"I've got no toes now. I'm toeless."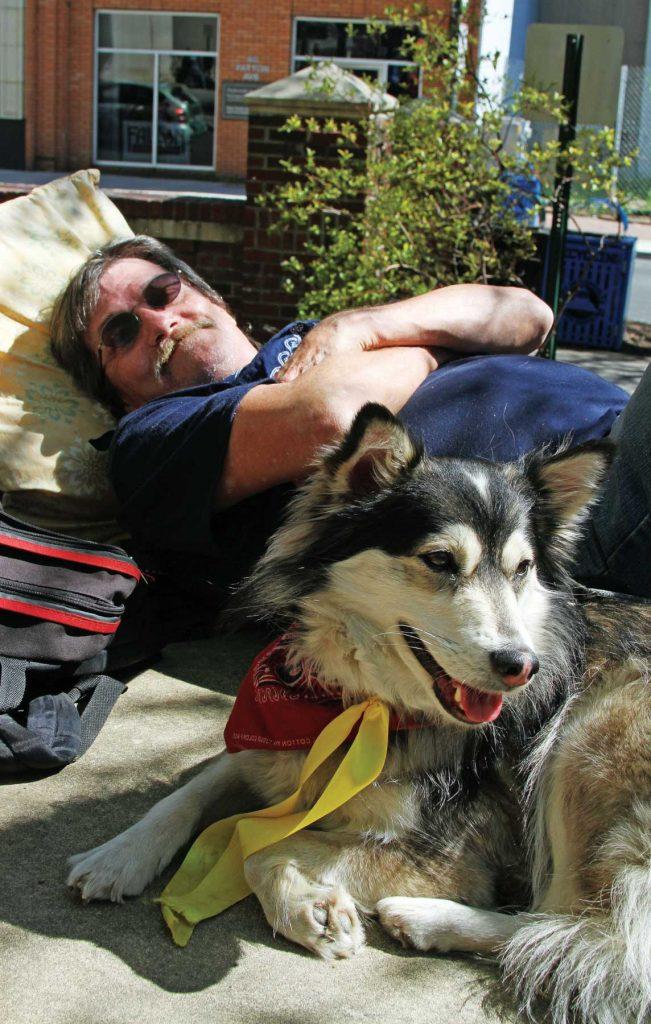 Alan Crenshaw, a Pittsburgh native, rests in
Pritchard Park with his dog, Midnight.
Photo by Megan Authement.
"Diabetes. I'll show you something, just so you have a little background on me. That's me right there, last year. I was still lucky I had my toes."
*Crenshaw pulls out copy of The Asheville Citizen-Times and shows a picture of himself and his dog featured in an article*
Which war did you serve in?
So in terms of why you found yourself in Asheville–?
"I came to visit from Pittsburgh. My sister couldn't have anybody stay with her because of Section 8 and I found myself homeless and I couldn't stay with her, so I stayed on the street about a year ago when I first got here."
How do you feel the Asheville Police Department treats the homeless people?
"I think they profile, to be honest with you. They haven't profiled me because I was in the newspaper. They haven't given me trouble much. But they give a lot of street people trouble, I heard. They're trying to run the homeless off. I feel scared of 'em, scared of the police. They always just find a reason."
So in terms of, if you were to say you have a personal motto that you live by, what would you describe it as being?
"Live to love and love to live."
In terms of what you would say inspires you, books, movies, people, what would you say?
"Nature. I love the mountains. I came here the 29 of August and I haven't left. It hasn't even been a year yet."
In terms of things that you like about Asheville and dislike about Asheville?
"The music, the beer and people are friendly."
Yeah, they're pretty alright.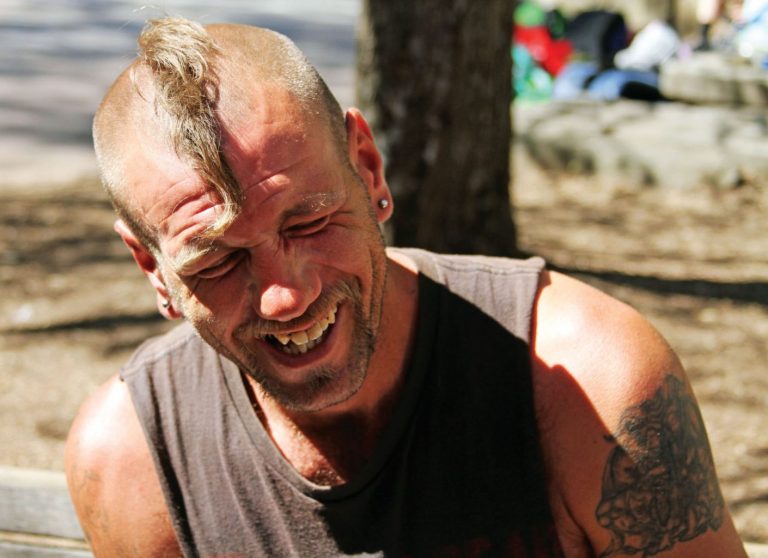 "Shaggy" oftentimes brings speakers with him for therapy. Photo by Megan
Authement.
James "Shaggy" Thomas, 35, from Jacksonville, North Carolina
In terms of living in Asheville, how would you describe your experiences?
"There's been ups and there's been downs, lately more downs than ups. But overall, it's been pretty good. I love Asheville."
What would you say the downs have been?
"Well, personal problems are really the downs. It's not really Asheville. It's just personal issues."
Yeah. What are some aspects of the city that you think are changing for the better and for the worse?
"These days, I try not to talk too much about it. It's hard enough just to get by on my own right now. I try to concentrate on me."
So if you were to describe yourself in three words, what would you say?
"Three words? Really good guy. I'm really hoping that everyone'll say that."
Yeah, Alan mentioned you.
"Quite a few people know me around here in Asheville."
That's awesome. So in terms of what inspires you creatively, like, music, movies, film?
"Music
—
that's me all the time, every day. If I'm having issues, I don't go to therapy; I don't talk to anybody. I just space out. I do music. I draw. I rap. I'm pretty hyper."
So you come down here to the drum circle?
"That's what brought me here, four years ago. I was only supposed to be here two days and I've been for four years. I was on my way out to California. I just never made it."
Wow. So Jacksonville's in the east of the state?
"East coast, all the way down."
Yeah, you just made it this far?
"Yeah, we were supposed to come up and bounce all the way across. I just never left. My friend did."
It seems like it was a good choice, that you're happy here.
"There's been ups and downs, but I really love Asheville. I love the mountains. I like the music, dress styles and people. It's pretty much an East Coast, mountainous, small San Francisco. That's what it is. It's very cool."
In terms of what type of artwork you do, how would you describe it?
"I do tattoo art. I just draw designs. I draw tattoos for people."
Have you tattooed yourself?
"No. I've not put needles to skin yet, to other people's skin."
Yeah. That's risky if you haven't done it before.
"Yeah, it takes awhile. Luckily, if you can draw, you can pretty much tat."
That's awesome. So, in terms of a personal motto that you have that you live by day to day?
"Actually, I do have a life saying I live by a few years ago. The courage we prize and desire is not the courage to die decently, but to live mentally. You can trace that to any situation in life. It's easy to give up. It's easy to die. It's easy to give out. It takes heart and power to keep forward and keep going."