Beat from the street (Apr. 10, 2017)
Many stories lurk throughout Asheville, whether they are behind the Vaudevillian jazz-folk played by buskers around Pritchard Park, the colorful businesses decorated with funky, hand-made crafts or the laughter echoing from a patio as locals and tourists alike enjoy delicious beer.
Chris D'Andrea, 24, live painter, muralist and portrait artist originally from Eureka Springs, Arkansas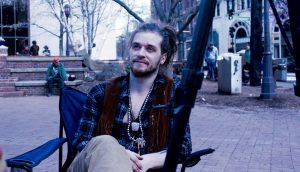 Chris D'Andrea has plans to establish an artist colony
in Arkansas. Photo by Dusty Albinger.
"I have a studio in Eureka Springs and I'm also an event director."
Ah, so you're a jack of all trades, kind of.
"Sort of, in the art world."
What would you say inspires you when you're making art?
"I don't know. It's something I've always done. It's my favorite thing to do. I think it's probably the most natural thing that we do as a species is make things and we all have a variety of things that we make uniquely. Everybody makes something, even if it's just thoughts."
What do you like to paint the most, would you say?
"I like to paint faces the most. I like to paint human figures but on my personal time, that's what I like to paint. I have production work and then I have my personal work. Personally, I like figurative work. Professionally, I go with surrealism because that's what moves."
Cool. So, if you were to describe yourself in three words, which three words would you choose and why?
"That's a tough one. How would I describe myself in three words? Messy, smelly and colorful."
Do you have a life motto or an expression that you live by?
"I have a few. Probably my favorite one is just don't go get a job, create a job."
That's good. So, how would you describe your style?
"I guess you could say I try to go for a whimsical, dream-esque scape. I do a lot of landscapes, always. Even if it's figurative, I always have landscapes in the foreground or background and then, yeah, whimsical I guess is my favorite word for it, at least that's what I try to aim for, something that's kind of dreamlike."
That makes sense, yeah. So, what's one thing you like about Asheville and dislike about Asheville?
"I like the arts scene a lot here, the freedom and stuff like that. There's a lot of liberty here. I also enjoy the open minds of people. What I don't like, though, is it is fucking hard to park anywhere around here. I cannot find a spot to save my life. But other than that, I ain't got no complaints but then again, I've only been here a few days."
OK. Are you just passing through?
"I'm a traveler. I'm a traveling painter."
Okay, cool. Where are you going to go next?
"I don't know. I have no idea. Every now and again, I'm kind of torn between going eastward to Wilmington or going back west a little bit and eventually making my way back to the West Coast to trim some pot or something, grow some weed because I gotta make some side money."
"My goal is to eventually get a large amount of property together in Arkansas so I can start my own artist colony. That's the dream."
Krischan Winters, 22, troubadour, originally from West Virginia
"This has gotten me through 31 states and DC so far in the last 2-3 years. It's been on foot, playing on street corners just like here in Asheville."
That's cool. So, how would you describe your musical style?
"I don't really know. It's probably most something like folk, but trying to get more into bluegrass finger-picking, which is a little different than what I'd been playing before. If it's possible to play classical on a banjo, then that'd be mostly what I've figured out, kind of like classical playing almost."
That's interesting. So, who would you describe your inspirations as being?
"It's hard to say, lots and lots of people. Anyone whose music has spoken to me, I suppose. It's hard to narrow it down besides that to any real big factors or big inspirations."
So, do you have a life motto that you live by?
"No, not really. I believe just kind of in following my gut, I guess and you gotta have a moral compass that's good, that'll take care of you. Just do your best and — "
"Sure, sure. I don't have much of a motto I suppose, no. Maybe I'll have to come up with one though."
Yeah, you'll find it or it'll find you, either way. So, if you were to describe yourself in three words, which three words would you choose and why?
"Maybe reckless, reckless might be a good one, hard to go into detail about why. I'm out here. That might be justification enough for that one. I don't know, I guess quiet right now, driven. Let's go with driven."
So, if you were to say the weirdest experience you've had while traveling through the lower 48, what would you say?
"Weirdest? There's been lots and lots of weird stuff, anything ever in Venice Beach, just the West Coast in general is always a riot, pretty crazy. One of the craziest things that happened that's really weird, this guy was giving me a ride into Denver once on the night before Thanksgiving and he fell asleep at the wheel going off the interstate and I had to steer us back on and press the brake with my hand while he came back to once we were stopped."
"That was pretty unnerving. I don't ever want to do that again."
"It was nerve-wracking, got locked in a boxcar once in Alabama. That wasn't fun."
Yeah, boxcars can be pretty dangerous.
"Yeah, I spiked the track, thought it was sufficient and it wasn't. The train moved the car. The door shut and I had to get workers to get me out, put me in the back of a cop car, didn't arrest me or ticket me that time, just told me not to come back more or less."
Photo by Dusty Albinger.
So, if you were to describe one thing you like about Asheville and dislike about Asheville, what would you say?
"I really like the culture here. I really like the street scene and all the folks coming through. I see lots of familiar faces every time, meet new people who know the same people. Something I don't like about it? I'd just have to say the police here. Of all the states I've been to, I've never been bothered by police anyway. I don't usually do anything that would make them come out of their way to come bother me. But here, they kind of look to get us here, I think, people with backpacks and all of that. They crack down a little bit."