Beat from the street (Oct. 24, 2017)
Many stories lurk throughout Asheville, whether they are behind the Vaudevillian jazz-folk played by buskers around Pritchard Park, the colorful businesses decorated with funky, hand-made crafts or the laughter echoing from a patio as locals and tourists alike enjoy delicious beer.
Cathy Hubbell, 65, Uber driver, originally from Connecticut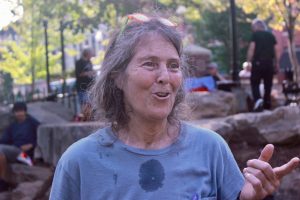 Cathy Hubbell describes herself as playful and kind.
Photo by Dusty Albinger.
So what brings you out here today?
"Trying to get a happy game going and I have some friends from out of town. I wanted to show them the drum circle. But they take a long time shopping, trying on clothes, so I said, 'I'll meet you here.'"
Yeah, yeah. So, what brought you to Asheville?
"My brother was here first and he said, 'Cathy, you've gotta come to Asheville' and so, I did. So, it's been great. Since I got here, I found out about a women's motorcycle club. I don't know if they're still together but I was with that for awhile and we got to be in a movie called
My Fellow Americans
. In the movie, we rescued the president and then also, I think it was the biggest, best thing for my heart. I mean, nothing wrong with my heart, good heart medicine. I joined a chorus called Womansong and by the way, we're doing a concert on Oct. 6 and 7."
"Or it's the 7th or 8th."
"Womansong is wonderful because it has its own charity called The New Start Program. Since 2006, we've given out more than $153,000 away to women who needed a new start, we're out of abusive relationships or —"
"I know. It brings me a lot of joy."
"So I like to get hacky sacks. I love to play frisbee. When I was young, I never thought that when I was 65, I'd still be just as playful. I like to teach people how to juggle, too, you know and if I find someone that knows how to juggle, if they don't know how already, I'll show them the passing thing, 'One, two, three,' pass, 'One, two,' you know, then 'one, two,' pass. Anyways, I like to play. So, at my house, it's full of games. I've got a really nice pool table, an outdoor ping pong table. It's meant to be out in the weather, foosball, a whole bunch of other games. I also have a 40-foot bus. I know I'm telling you a lot."
"A 40-foot bus, it's called the truth bus. I had all the signs made at a sign shop and the signs cover the sides and it's about controversial issues like 9/11, GMOs, you know, vaccines and fluoride in the water, all kinds of things, especially, a lot of pictures of the GO engineering plant. People know them as chemtrails. So I'm all about sharing that and so people know about that. But, at the same time, I made sure to let people know that my two main ingredients for happiness is never stop playing and to have the goal of becoming kinder and kinder. You don't take things personally. You just realize everyone's kind of where they're at. It's easy to forgive and that about wraps it up, yeah."
Would you describe that as your personal, like, your life motto? Never stop playing?
"Oh yeah, yeah and have the goal of becoming kinder and kinder."
"I'm a vegan, too because, you know, I think, I was just going to say, the slaughterhouses are one of the most unkind and bad things we do and there's this documentary called
Cowspiracy
. I haven't watched it. It would show pictures I didn't want to see. But, it's 600 gallons of water to produce one hamburger or something like that, you know, when the time is all said and done."
"So it kind of goes with everything. The kinder you get, the more you treat even insects with kindness. You know, like you'd want to be treated."
Yeah. So, how would you describe yourself in three words?
Playful and kind, OK. So what's one thing you like about Asheville and dislike about Asheville?
"Well, I've been here since '94. There wasn't much going on here. I love seeing it grow and all the people enjoying. So, I love the diversity here. I love how people can be themselves here. There's nothing I don't like about Asheville. I don't like seeing the GO Engineering plant make clouds over Asheville, but other than that, you know, that's — "
That's everywhere you go.
"Yeah, fluoride and you can go to all that, you know? That's not just Asheville. There are many groups that are trying to do something about that."
Yeah, yeah. That's good. So, if you were to describe a creative inspiration like art, music, literature, anything that inspires you on a day-to-day basis, what would you say it would be and why?
"Womansong, the chorus I'm in. I was really shy when I first joined that, really shy. One book that really resonated with me was Eckhart Tolle's
The New Earth
."
Diana Loveland, 39, police officer, originally from New Bern
Diana Loveland works for the
Asheville Police Department.
Photo by Dusty Albinger.
What is your favorite part and least favorite part of being a police officer in Asheville?
"My favorite part is the different people I meet and get to help. My least favorite part is the calls that go on involved with kids."

The original version of these interviews was published in The Blue Banner.