My venture to India: exploring one of the oldest cultures on Earth
As the fog settled in, my feet trod slowly upon the tired old streets. It was 5:45 a.m. and the night felt like it had not said goodbye.
We wound throughout the city amongst people passing through — people who looked like they had been on Earth for hundreds of years — not in an elderly way, but in a wise way. Groans from various individuals were heard, on the main street or inside a tiny shop. The city seemed to be waking from a suspended dream, a dream resting in neither time or space but in the ether of another world.
Eventually, we arrived at the bank of the Ganges, where the energies of the people swirling around were unlike anything I have ever felt before. Religious elders crouched under tents, nursing pots full of smoke, bestowing blessings upon others. People tentatively walked down the ancient steps leading to the river, slowly removing their clothes. It was only a little past 6 a.m. and still very dark as they displayed their piety to the Ganges, dipping themselves carefully into the cold water.
After some time elapsed, the sky faded into a paler shade of grey over one of the most ancient cities in the world, Banaras, otherwise known as Varanasi.
The trip to India was eye-opening and educational in many ways. Traveling with Sonia Kapur was especially inspiring, as she took us to many places off the beaten path instead of sticking to a tourist-oriented agenda.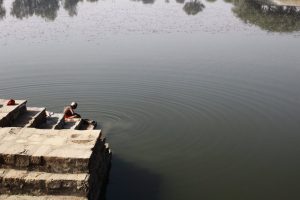 An individual rests by a lake in the village of Orchha in
Madhya Pradesh, India.
We went to the slums of New Delhi and two villages removed from any city where the inhabitants were running schools for kids who otherwise would not have the resources to pursue an education. The other village we visited showed us the real India as well, the India not confined to a postcard of the Taj Mahal or the hedonistic atmosphere of Goa.
The women in the village founded a group for each other to educate themselves about domestic violence and were working avidly to combat it. They also started to make their own feminine products, which they did not have up to this point. It was surprising to hear their stories about how they would have to bike miles to the closest school in order to continue their education.
Listening to their testimonies really put into perspective how fortunate and privileged I am to live close to a university and easily secure resources to pursue a degree. It also instilled in me admiration for these women, who were so strong and striving earnestly to combat hard circumstances in their lives.
This was why it was important for me to document what I saw in India through photography. As a photojournalist, I am very interested in the raw reality of different locations throughout the world and have learned so much from different photographers depicting life in other countries through their lenses.
At one point, I was lambasted for posting a photo of the slums in New Delhi, with the person saying I was showing "poverty porn" and that my Western audience needed to be taken into consideration.
See, here's the thing: Photography is a gripping medium to learn about the world and if we did not have people like Stanley Greene documenting the horrors of the genocide in Chechnya or Lynsey Addario capturing the harsh truth of war in Afghanistan, we would not visually be able to put these conflicts into perspective. Life is not pretty and we need to realize and acknowledge the realities in other countries like India.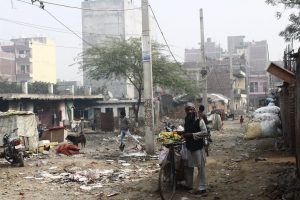 A person walks with his bicycle in the slums of New
Delhi.
We did visit touristy sites like the Taj Mahal — which is very overrated, by the way. It was really cool, however, to balance out these places with visiting the non-touristy sites. We stayed in a Tibetan university, where we had no warm water and slept in a room full of mosquitoes. Luckily, nobody came down with malaria.
This was all part of the experience though. The piety of people in India, whether they are Hindus, Jains or Muslims, is a lot stronger than the majority of individuals in the United States. Although I am not religious by any means, it was truly inspiring to witness this level of sincerity.
Indian society was established long before the U.S. of course, and this is reflected everywhere you go. The architecture represents all the different cultures who have lived there throughout the centuries, giving the impression of something very ancient about the customs and traditions in the region.
There are, nevertheless, some negative components, one of which being how women are viewed throughout the society. Before entering movie theaters or an airport, women and men are divided into separate lines. This separation between the sexes manifests itself into how women are treated and I am not going to lie, several times I felt weird during some encounters with men. One such instance happened in Jaipur in the province of Rajasthan. I was outside smoking a cigarette with a friend when three men came up to us and tried to aggressively persuade us to get in their car.
This incident aside, it was a fantastic trip that I learned a lot from.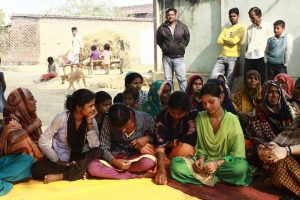 Women in a village outside of Varanasi discuss their
initiative to combat domestic violence.
One person I met described the concept of visiting India vividly.
"The first time you visit, it's like an appetizer," he said. "The second time you visit, it is like the main course. The third time you visit, it is like dessert."
The trip only lasted a little over three weeks and I earnestly wish to go back. It is a country brimming with stories and with life, chaotic on so many levels and this is why I love it.
In the meantime, I will continue to look at photos and compose mental love letters to the mysteries of one of my new favorite cities. Banaras, I will someday traverse your dirty streets again, meandering amongst the tiny corners and shops, inhaling the fog of many centuries.