Students face the complexities of India in recent trip
Seven UNC Asheville students were greeted by heavy smog as soon as they stepped off the plane. Weary from travel, but excited nonetheless and led by Assistant Professor of international studies Sonia Kapur, the students were ready to explore the country they spent a semester studying.
"I'm from India and I grew up there and I just felt that this would be a good opportunity for the students to experience what we had learned about in class," Kapur said. "Learning in a classroom is very different from actually experiencing something."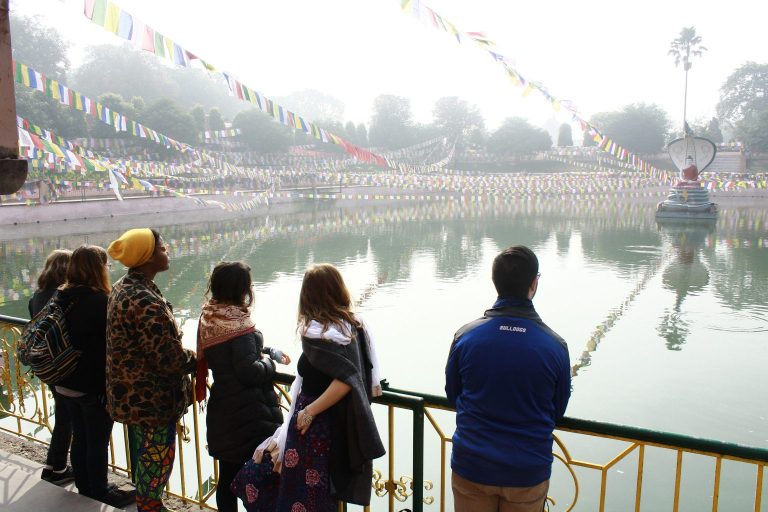 The group visited a plethora of religious sites, including this temple in
Bodhgaya.
The trip sought to illustrate three key components of a course Kapur teaches: experiencing and exploring the British and Mughal history of India, understanding the diverse religious practices and analyzing class diversity and social problems within the country.
Jamie Hovis, a junior psychology student from Wilmington, said the trip kicked off immediately after delayed flights put the group behind schedule.
"We jumped right in the first day and went to visit an NGO and that was crazy because we just got to India and all the sudden we're seeing this intense poverty," Hovis said.
India has several non-governmental organizations, which address issues like health care, education and human rights. However, the government does not want tourists to connect with the NGOs because they want to promote a certain image of India.
"If they think your trip is all about nonprofit sector programs, then they don't allow you visas," Kapur said. "They don't want people from abroad to come and work there or to do internship projects because they want to keep an image of India which talks about different things, touristy images."
As of 2012, 270,000,000 Indians were classified as poor by The World Bank, meaning one in every five Indians lives in poverty.
Kayla Taylor, a junior international studies student, said the poverty was noticeable and shocking throughout the country.
"Going to the train station, there were a lot of people who were disabled and had deformities and they were begging for money. That was the first time we saw that," Taylor said. "We also saw mothers holding babies, asking for money as well. That was pretty hard and then to go onto a train and everyone has money and living pretty comfortable, it was kind of hard."
Taylor described meeting the people affected by NGOs as a life-changing experience, an experience that made her contemplate her role as a person from a Western country and how she could help. Taylor said this heightened her sense of gratitude for the privileges and access in the United States that are simply not a reality for many Indians.
Gage Cadawas, a senior biology and Asian studies student from Durham, said one of the things he noticed right away after exiting the plane was the extreme pollution.
"The pollution's bad, the smog is bad. There were times where you couldn't see three kilometers away," Cadawas said. "You could feel it. You can breathe it."
India ranks as the second largest country in the world behind China, with a population of 1.324 billion people, as reported by the Census Bureau.
"You never get bored in a country like India because there are people all around you and there's so much life happening," Kapur said.
One such person the students met was the Dalai Lama when they visited the Central Institute for Higher Tibetan Studies.
"The Dalai Lama was pretty cool," Hovis said. "Some of the people around us were crying, like, I remember this one lady saying 'He's like God.'"
While at the Tibetan Institute, the group stayed in dormitories they otherwise would not
have been occupying because of the Dalai Lama's residency.
"There were thousands of mosquitoes in the room and only two people had anti-malaria medicine, no hot water," Taylor said. "The women were really nice though, very helpful."
Another facet of the society the group picked up on was a significantly different treatment between genders.
"Whenever someone would come up to you to try to sell you something, they'd talk to the women. When the women said no, they just keep pestering and pestering them, trying to get them to buy this item," Cadawas said. "When they said the same thing to me, I just said, 'No.'"
Though it was not uncommon for the students to be approached by people and families wanting to take selfies with the travelers, Kapur advised her female students not to engage in photo-ops with men due to the uncertainty of what the men might do with the photo.
Throughout visiting the country the students witnessed the level of piety the people possessed. They traveled to Varanasi, which is regarded as the holiest of the seven cities in Hinduism and Jainism. The Ganges River, one of the most sacred rivers in the Hindu religion, flows through the city.
"We went really early in the morning for the first boat ride (on the Ganges)," Hovis said. "It was cool to see the people that were all there first thing in the morning and we're in our jackets and scarves shivering and then you see these people submerged in this river bathing."
Taylor said the trip to the world's second most populous country was not something that can be summarized in a simple fashion.
"Don't expect to go on a vacation when you go to India, but it's worthwhile, it's beautiful, it's ugly," Taylor said. "If you go with Dr. Kapur, it's awesome and you should probably go with someone who's from India, who's been to India, just to give you some insight
because there's nuances to the culture that you wouldn't understand, you couldn't understand if you were a foreigner just stepping into India right off the bat."
This article, which was co-written with Gabrielle Lanius and members of
The Blue Banner editorial staff, was originally published in The Blue Banner.