Beat from the street (Apr. 24, 2018)
Many stories lurk throughout Asheville, whether they are behind the Vaudevillian jazz-folk played by buskers around Pritchard Park, the colorful businesses decorated with funky, hand-made crafts or the laughter echoing from a patio as locals and tourists alike enjoy delicious beer.
Genevieve Louise Williams, 50, unemployed, originally from Knoxville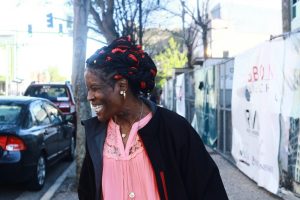 Genevieve Louise Williams constantly works to make
her life better everyday. Photo by Cat Pigg.
"Asheville is a wonderful place to be. You hear a lot of people say, 'Aaaaaaaah.' Those are the people who don't have nothing to do or don't want nothing to do with their life. Life is enjoyment and getting out and about and enjoying the place where you're at. So, that's what I like to do."
Do you have a life motto that you live by?
"Yeah, I've pretty much done all my goals. What I'm trying to do now is better, see better, walk better and know what you're worth and just pretty much have a better time and a better relationship with life, people and the people you're around because it's just going so fast. I've seen the worst, played with the worst, done the worst, so I'm looking for better."
Yeah, how would you describe your style?
"Very sophisticated, very strong, very knowledgeable and very intelligent with what I've learned in life."
What would you say inspires you on a day-to-day basis?
"Knowing that I've conquered what I need to conquer on a daily basis by not knowing that I've done nothing."
So if you could describe yourself in three words, what three words would you choose and why?
"I am me. I say 'I am me' because at the end of the day, you have to recognize who 'I' is, which is 'me', and 'me' has to make a profit, I wouldn't say a profit but I guess that's something you would say nowadays. But you have to make an effort to make the profit, to be able to just get anywhere than what you could be doing when you couldn't do nothing. So, I still got my strength, still got my health and like I say, I'm still out to do it and I love the place I'm in and I love the people. I don't have to know everybody. You don't know everybody, don't love everybody. You just love their culture, their nature, the people who we're around. We all spin. We all eat together, you know what I'm saying?"
So if there's one thing in particular you would say you liked most about Asheville and if there's something in particular you dislike about Asheville, what would you say?
"Well I would say the dislike about Asheville is all the high-rated crimes, the murders, just all the loss going on. Some of it can be controlled, some of it can't, so we'll leave that up to the spiritual part but what can be controlled, that's what we need to be doing, working on all this. I'm not gonna stay locked in. I'm gonna come out in the world and enjoy the world I'm in."